Overview
The entertainment licences issued by Office of the Licensing Authority, Home Affairs Department include:
(a) Amusement Game Centre Licence
Any person who wishes to operate an amusement game centre requires an Amusement Game Centre Licence. There are two types of such centres: adult centres for persons aged 16 or above and children's centres for persons under the age of 16.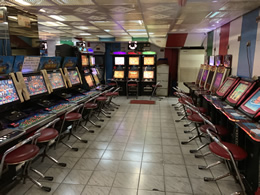 (b) Amusements with Prizes Licence
Any person who wishes to operate an entertainment centre or organise such functions as funfairs and bazaars involving the playing of games with prizes is required to obtain an Amusements with Prizes Licence. For safety reasons and to prevent children from being attracted to undesirable materials, games that are hazardous to players' health, or that have gambling connotations or indecent content will not be approved.
(c) Lottery Licence
Lottery Licences are issued to charitable or non-profit-making organisations to allow them to conduct lotteries to raise organisational funds or support charitable activities.

If the licensee wishes to sell lottery tickets on public streets, he or she must seek separate approval to avoid clashes with other fund-raising activities or obstructing pedestrian and vehicular traffic.
(d) Mahjong/Tin Kau Licence
Mahjong/Tin Kau parlours are gambling establishments in which patrons play mahjong and tin kau tiles.

A Mahjong/Tin Kau Licence authorises a specific person to operate a mahjong/tin kau parlour at a particular location and at specified hours. The hiring of employees also requires prior approval.
(e) Trade Promotion Competition Licence
Operators of different trades may organise competitions to promote their business. If the competition involves an element of chance (e.g. lucky draws and scratch cards), a Trade Promotion Competition Licence is required.
(f) Tombola Licence
Tombola Licences are issued to social and recreational clubs that provide tombola games as one of the recreational facilities available to their members. The tombola activities should not be organised for the personal gain of the organisers, and there are strict licensing conditions governing the playing of tombola games.
(g) Public Dance Hall Licence
The primary objective of the licensing control of public dance halls is to ensure that no acts of lewdness occur in public dance halls or ballrooms. Licensees must therefore comply with the strict licence regulations and conditions controlling the minimum age of employees and other persons present on the premises and the lighting and seating arrangements. The hiring of employees also requires prior approval.